DJ Nathan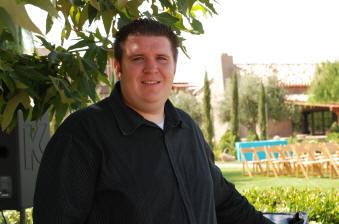 Nathan Webb
Consultant DJ/MC

Nathan Webb is one of southern California's hottest disc jockey's. His attention to detail and broad knowledge of music/sound makes him a perfect choice for any event. From opening up for the Ying Yang Twins @ The Low rider Magazine in San Bernardino to spinning at a Future Farmers of America banquet in Lake Elsinore Nathan continues to expand his horizons and resist being pigeon holed to 1 genre of music." I've been a DJ. for 6 years now and been into music for over 10 years. y passion for music began as a student in the wind ensemble and jazz band from middle school thru college and escalated into music production and DJing." Such a strong passion for music mixed with back grounds of live sound, studio engineering and sound design provide a perfect recipe for providing customers with a clean balanced sound and unique, innovative song transitions/mixes.


References
Hello Southern Cali DJs,
I just wanted to say thank you for the great job that DJ Nathan did on Friday. I got a lot of compliments that music was 10x¢s better than last year¢s party, so thank you so much!!
December 2006
Brianna Bowlds
Alutiiq, LLC
Hi Debi,
I can't thank you enough for being able to accommodate us at such short notice last week. We had a great time and my mom really enjoyed herself. Nate was so friendly and was just a great DJ. We couldn't have been happier. Thanks again!!!
Jennifer
jennyybarra@gmail.com
Thank you so much for giving us and our friends and family a good time on such short notice of music. I would definitely recommend you.
Thank you again
Elaina & Freddy Salomon
raeraegomez@peoplepc.com
Phone (909) 387-1166
Wedding
DJ George & DJ Nathan
I just wanted to say Thank You to Nathan. He did a great job and we all had a great time.
Thanks for all of your help!
Dana
Dana Caporicci
dana.caporicci@sjk.com
Serving The
Inland Empire, Riverside, San Diego,
San Bernardino, Palm Springs and Los Angeles Areas
Southern Cali DJ's at your service